Old News
Interactive Exhibit
The St. Boniface Registered Nurses' Alumni Association has put in place an important, exciting Interactive Archive Exhibit commemorating the rich 100-year history of the St. Boniface Hospital School of Nursing. The exhibit is located in the Everett Atrium (main entrance to the Hospital) for all to view. We invite both Alumni and the Public to visit and experience this inspiring interactive exhibit.
The Exhibit consists of:
two 55-inch multi-touch screens; visuals on the wall and on three overhead wall panels; and
eight acrylic panels hanging in front of the windows depicting important figures who contributed to the establishment and success of the school.
The Exhibit captures the story of the former St. Boniface School of Nursing, its history and important role in the development of nursing care not only at the hospital but beyond. It is also a tribute to the Grey Nuns' legacy of compassion, caring and professionalism that was imparted to student nurses. Some of the themes depicted are:
wars and epidemics
the curriculum
the life of student nurses
highlights of significant events in its history over a 100-year span
life after graduation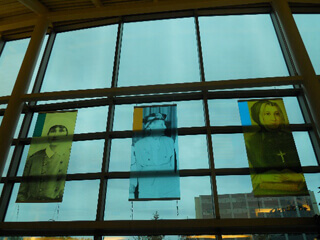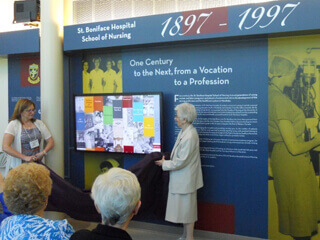 Financial Contributors for the Exhibit Project
An anonymous donor
Lillian (Lane) Bartel (Class of 1964A)
friends and members of the Alumni and
the following institutions:

The Grey Nuns of Montreal
The Catholic Health Corporation of Manitoba
St. Boniface Hospital
Winnipeg Foundation
Manitoba Government
Partners & Supporters
In particular, Diane Haglund, the St. Boniface Museum, the St. Boniface Historical Society, and the Association for Manitoba Archives.
---
Digitalized Yearbooks
We recently had all our yearbooks (1923-1995) digitalized. Many thanks to Lillian (Lane) Bartel (Class of 1964A) for sponsoring this project and thank you to the St. Boniface Historical Society for creating the website.
The yearbooks can be found on the St. Boniface Historical Society website.
---
Digitalized Graduation Photos
Thank you to Shirley McSavaney (Class of 1960) for sponsoring the project to digitalize all the graduation photos that we have.
The graduation photos can be found on the St. Boniface Historical Society website.
---
Digitalization of Minutes / Correspondence
The Alumni has signed a contract with the St. Boniface Historical Society to digitize all our Minutes/Correspondence, going back to 1931.
This project was made possible by the generous donation from Peri Venkatesh (1975 grad).
---
Cataloging
This document will allow anyone to search for documents, donations, yearbooks, oral histories, albums and other information and find it easily in our holdings. It also identifies what the Alumni has in their holdings.
---
Heritage Room
The Heritage Room is located in the Education Building, former School of Nursing, on the main floor and is located behind of the parlour. A collection of memorabilia that is a must see!