Proposed medication pouches for patients wins SBH Ideas Competition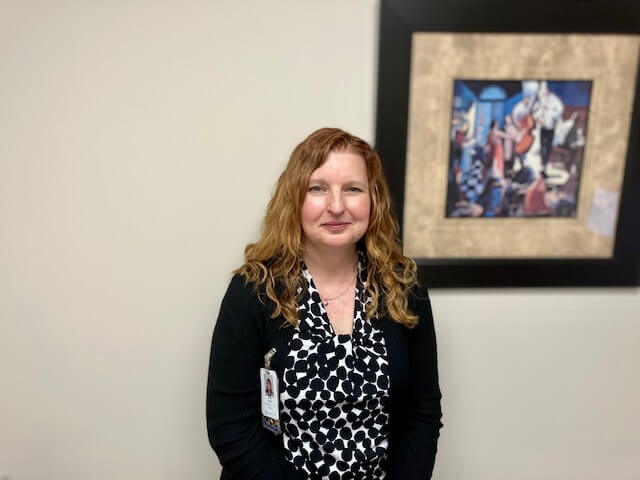 A pharmacy manager at St. Boniface Hospital is proposing the idea of distributing 'fanny pack pouches' to patients, which could help reduce the amount of medication that gets lost or wasted during their stay.
That solution was outlined in Carol Davis's essay, which was the winning submission in the SBH Ideas Competition.
"I wanted to come up with an idea that checked off a lot of boxes that we talk about every day in our safety huddles," said Davis, who has been a pharmacy manager at St. B for 12 years.
"I know from meetings with our pharmacy staff, having to refill medications when they know they have already been dispensed is definitely a source of disengagement, and it takes away their focus on the orders at hand."
Davis said she's concerned about the amount of medications like inhalers getting misplaced when a patient is transferred from one unit to another, specifically from the ED where there is no medication room.
"We know the medication ends up somewhere in the building, but where exactly? I don't know," she said.
Davis said Pharmacy receives multiple calls a day requesting medications be refilled unnecessarily once a patient arrives onto an in-patient unit. She said that medication is supposed to last the duration of the patient's stay but it often goes to waste.
"Medications need to be a piece of the thinking as patients are transitioned throughout our facility," Davis said.
"Some of these issues speak to the quality of our medication distribution system and efficiencies."
For her competition-winning idea, Carol recommended the use of brightly colored pouches, that are easily visible, to store the medication. The pouches could be clipped to the bed or IV poles or worn by patients to prevent the medication from getting misplaced during a patient transfer.
It's a solution she believes could save the hospital money on medication costs and reduce environmental waste.
"I do think we need to be mindful of the carbon footprint that we are leaving behind."
The competition, initiated by SBH physician Dr Rizwan Manji, was launched on February 1, 2023, to gather innovative ideas from staff on how to address some of the challenges the hospital faces. More than 30 entries were submitted, with many wide-ranging ideas that tackle hospital inefficiencies, and improvements for staffing and workplace culture.
The second-place winners all work in Cardiac Sciences. They are Anita Maric, Dr. Lorraine Avery, and Craig Hillier, for their proposed idea of having a Staff Relaxation Centre. Third place went to Saxon Duncan, a nurse in NICU for her idea for an onsite daycare.
"I'm so humbled and very excited to be the winner of this contest," Davis said.
"I had a lot of fun, and I'm grateful the hospital engaged staff to participate in this way.
"Even if my idea just brings awareness to the problem and gets the conversation going, it might lead to another solution out there that looks into medication transfer."
The SBH executive and SBH Medical Advisory Committee, who jointly ran the competition, would like to thank everyone who submitted ideas. The executive is committed to exploring the feasibility of all the ideas received, whether they were deemed winners or not. Winning ideas may or may not be implemented, once the feasibility is assessed, while those ideas that were not awarded first, second or third prize will still be considered for implementation.
Congratulations Carol and thanks everyone for making this first-ever SBH Ideas Competition a success!