Professional Practice
We understand that an environment that supports interdisciplinary practice and professional development is key to achieving excellence in patient care. If you are a dedicated professional who shares our commitment to excellence, consider becoming part of our team today.
At St. Boniface Hospital, we offer a number of challenging and rewarding career opportunities within the following nursing specialty areas:
Cardiovascular nursing
Child Birth and Gynecology
Critical Care

Intensive Care Cardiac Surgery
Coronary Care
Medical Surgical Intensive Care
Neonatal Intensive Care

Diagnostic Imaging
Emergency
Gerontology
Infection Control
Mental Health
Medicine
Nephrology
Nursing Informatics
Oncology
Palliative Care
Perioperative Nursing
Staff Health
Surgery
Vascular Access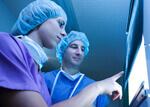 In addition, we offer a diverse range of professional roles that include some of the following:
Bed Utilization Facilitator
Clinical Nurse Specialist
Clinical Practice Nurse
Clinical Resource Nurse
Continuing Education Instructor
Licensed Practical Nurse
Nurse Clinician
Nurse Practitioner
Nursing Supervisor
Patient Safety Consultant
Program Director
Program Team Manager
Patient Relations Officer
Quality Facilitator
For more information, visit the WRHA Careers page and join our team today.