Services
Arts in Healthcare
Art at the Bedside
An exciting program for patients. Watch for volunteers visiting the unit, or call Volunteer Services at 204-237-2442 for more information.
Artists in Healthcare Manitoba
In 2001 St. Boniface was the first hospital in Manitoba to welcome Artists in Healthcare Manitoba and its artistic programs — varying from visual artists to musicians — on its units. A not-for-profit organization, AIHM was created to enhance patient, family and staff wellness through the introduction of the creative arts in health care. These musical performances throughout the hospital are made possible thanks to the ongoing support of Artists in Healthcare Manitoba. If you would like a musician to perform on the unit where your loved one is a patient, please contact Volunteer Services at 204-237-2442.
Buhler Gallery
When St. Boniface Hospital opened the Buhler Gallery in 2007, it was the culmination of a dream that was championed by staff, patients and volunteers for a number of years to find space within our walls where people could retreat for a time from the often stark and challenging realities that come with life in hospital. Take the opportunity to visit its exhibitions.
Television / Telephone Rental Services
Personal televisions are not allowed. A telephone and television rental service is available to inpatients through HealthHub.
Entertainment and/or TV Rental Services
Rentals are available on a daily, weekly and monthly rate. You can pay by Visa or MasterCard (no cash).
Entertainment and/or TV rental services are available right at the bedside, provided by HealthHub Patient Engagement Solutions. Patients or their loved ones can either complete the rental process anytime on the bedside terminal or visit www.ConnectMyBed.ca.
To rent phone service on the A3, A4, A5, B5 and Asper units, visit www.ConnectMyBed.ca, which is also available 24/7 to help answer questions related to local channel guides and to request customer service assistance.
Proceeds from telephone and television rental services are given back to the hospital to support patient-related programs and equipment purchases.
To assist you on how to operate the bedside television/entertainment screen, please refer to the user guide.
Telephone Service
Patients may place local calls, third party billed calls or calling card calls. Please note the hospital system does not accept collect calls.
A Teletypewriter (TTY) is available for patients and family use. Please make this special inquiry with your nurse. Personal home telephones are not allowed.
Payphones are located on each ward near the visitor elevators.
Cellular phones are not allowed in patient areas within the hospital as they may interfere with the operation of medical devices. Please check the posted signs to see if cellular phone are permitted or restricted.
Television Service
Headphones are provided for each charged rental. Please use headphones to ensure a restful stay for all our patients.
Televisions with limited access programming are located in every patient lounge, available to all patients.
Munroe Pharmacy
Hours of operation
Monday to Friday: 8:30 a.m. to 5:30 p.m.
Saturday, Sunday and statutory holidays: 12:00 p.m. to 4:00 p.m.
Phone: 204-560-4600
Fax: 204 800 8850
Bank Machine / Automatic Teller Machine (ATM)
A portion of the ATM fee is given back to the Hospital to support patient-related programs and equipment purchases.
Basement Level – A Royal Bank bank machine is located on the basement level at the South entrance.
Main Floor – Two (2) ATM machines are located on the main floor of the hospital: one near the parking paystation behind the Inquiry Desk and one by the Shoppers Drug Mart entrance.
Courtesy Wireless Internet Service (Wi-Fi)
Free 24/7 courtesy Wi-Fi is now available for patients and visitors throughout St. Boniface Hospital. No password is required.
If you are able to see 'MTS Wi-Fi Hotspot' in the settings of your mobile device, you are in a coverage area.
The service allows you to:
Browse the internet
Check email
The service does not support:
Periods of poor internet access may be due to the high number of users in an area.
Patient and Staff Library
The Patient Library is located on the main floor of the hospital, room D1034. Volunteers visit the patient units, lounges and waiting room areas with a mobile library cart many times a week, offering books, newspapers and magazines.
Lost and Found
Lost and Found articles are stored in the main Security office (B1027) on the Hospital main floor. For information, please call 204-237-2205.
Sisters' Garden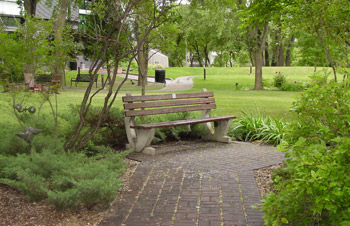 Enjoy the peace and tranquility of the Sisters' Garden, a smoke-free green space located at the back of the Hospital.
It is open to patients and staff during the summer months.