Gift Shop opens with reduced hours
Please note that effective Monday, June 15, 2020, the Gift Shop will be open Mondays to Fridays from 9 a.m. to 11:30 a.m. and from 12 noon to 3 p.m. for patients and staff. It will remain closed on Saturdays and Sundays. We are accepting flower orders. You may also call us at 204-258-1082 or email us at giftshop@sbgh.mb.ca as we check our messages regularly. We will update the information as changes occur.
Please note that we will be open on Canada Day (July 1st)
from 12 noon to 4 p.m. but closed on Friday, July 3. 
Gifts that make a difference!
Our group of dedicated volunteers and staff are committed to helping you. If you would like to volunteer, click here. All net profits from the Gift Shop are directed to support patient care and employee projects.
The Gift Shop is located in in our main entrance area called the Everett Atrium. Click here for a map. Public parking and bicycle stands are available here.
Location & Contact
St. Boniface Hospital
Main Floor / Everett Atrium
409 Taché Avenue
Winnipeg, Manitoba R2H 2A6
Gift Shop: 204-237-2313
Office: 204-235-3310
Email: click here
To place an order please call the Gift Shop directly at 204-237-2313. We accept Visa and Mastercard for telephone orders. Free delivery within the hospital.
The Gift Shop offers an affordable collection of high-quality products that are innovative and contemporary.
For information about specials and upcoming events please send us your e-mail address here.
Baby Essentials
Blankets
Sleepwear
Accessories
Toys
Sales Kiosks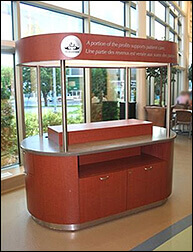 Two kiosks are available for sales events. The kiosks are ideal for crafters, artisans, home-based businesses and information providers.
The kiosks provide excellent opportunities to connect with the patients, visitors and 3800 staff who work at St. Boniface Hospital.
For more information, please contact us at:
Telephone: 204-258-1082
Fax: 204-231-0647
Email: kioskrentals@sbgh.mb.ca
Download the Kiosk Rental Vendor Application.
Upcoming Events
Click image above for more information.
All net profits from the Gift Shop are directed to support patient care and employee projects and programs.
Gift Shop
Kelly Lewis, Manager
204-235-3310
Email