Education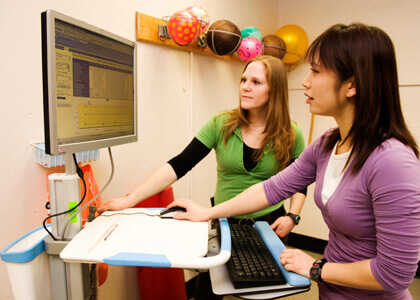 Education and development opportunities are key recruitment and retention factors to equip nurses to meet the challenges presented by constant change. The clinical managers and educators at St. Boniface are committed to providing orientation programs that includes both classroom and corresponding skills labs to facilitate new nurses and students' transition into the clinical environment.
St. Boniface fosters an environment that promotes a nurse's continued learning and personal growth through access to funding and continuing education programs such as the Charge Nurse and Preceptor workshops offered through the Calendar of Continuing Education. Specialized education such as the Dialysis, Critical Care and Advanced Emergency Nursing programs are offered and aim at advancing the knowledge and skills of clinical nurses to a higher level of practice. Registered Nurses can further influence their professional practice through participation in the Mentorship Program and on committees such as the Nursing Leadership Councils and Nursing Practice Council.
Employment opportunities for nurses are available throughout the hospitals' eight clinical programs, outpatient, outreach and ambulatory care programs. Clinical Educators are part of each clinical program team and provide orientation programs for new nurses and ongoing continued learning opportunities centrally and at the unit level to meet the learning needs of the health care team.
St. Boniface is committed to providing continued education and development opportunities for future growth and leadership in the nursing profession. Together new graduates and nurses at St. Boniface have an exciting opportunity to build a rewarding career from start to finish.
For further information on education and development opportunities at St. Boniface, please contact Education Services at 204-237-2232.