Parking
**Please note that Lot 1 located near the front main entrance at 409 Taché Ave is temporarily closed until further notice. It is now marked as a construction area in the map below.
Please note that a reduced number of public parking stalls is currently available at St. Boniface Hospital due to the Emergency Department Redevelopment Project. We apologize for the inconvenience.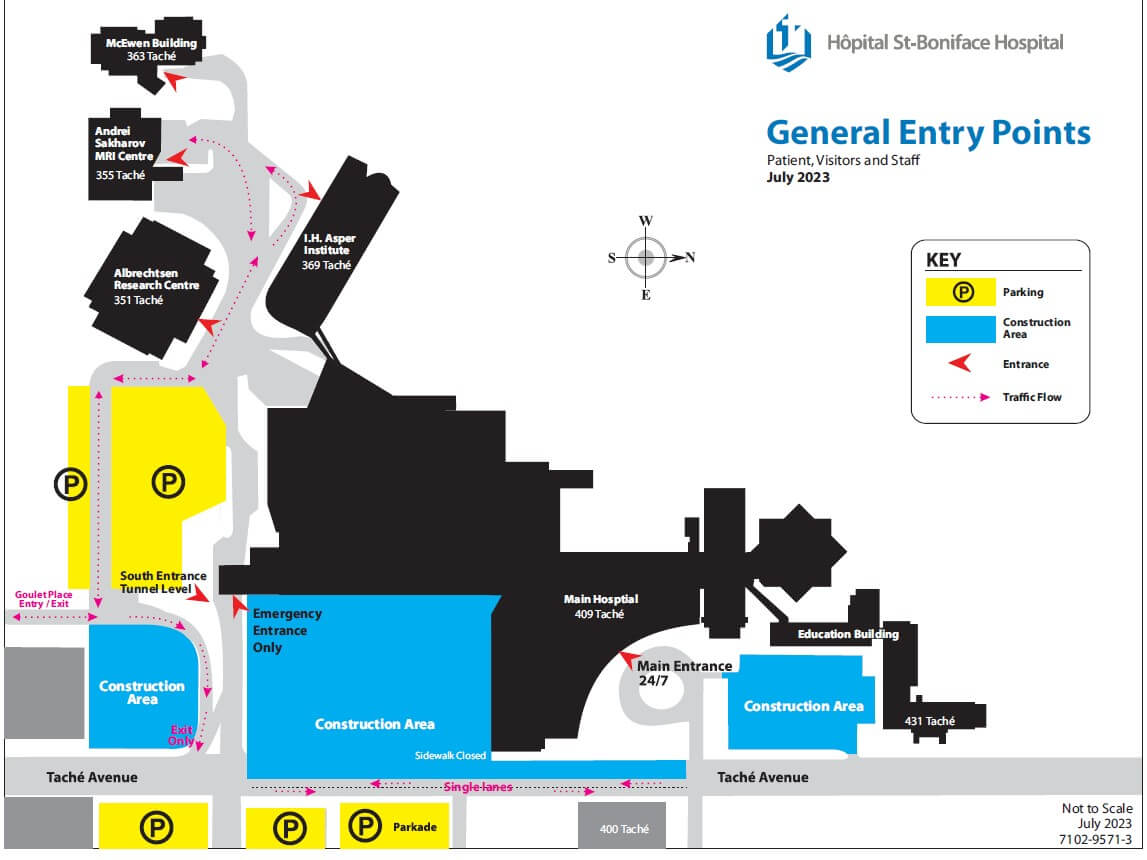 Rates
Please note parking rates, terms and conditions are subject to change without notice.
Lot
Rate per
1/2 hour
Daily max
6AM-6PM
Evening max
6PM-6AM
24-hour
max
Lost
tickets
Visitor Pass*
1
LOT 1 temporarily closed as of July 9, 2023
—
2
$2.50
$15.00
$10.00
$23.00
$26.25
—
3
$2.50
$15.00
$10.00
$23.00
$26.25
$56.00 / week
$168.00 / month
1 = Taché Visitor lot
2 = South lot
3 = Parkade & Surface lots

* Passes expire at the same hour it was activated on the 7th & 30th day after activation. Use the intercom at the exit gate and Security will let you through.
Drop-Off and Pick-Up Areas
Patients and visitors may be picked up and dropped off at the hospital's main entrance at 409 Taché Ave. The vehicle must remain occupied; otherwise, parking at a meter is required. Unattended vehicles will be ticketed. Emergency patients ONLY may be picked up and dropped off at the emergency department entrance. No parking is available at the emergency entrance.
Spaces for Persons with Disabilities
Please note that spaces in the Taché lot are no longer available. There are spaces available in our south lot. Hourly/daily rates apply. We kindly remind visitors and patients that the disabled parking permit must be visibly displayed on the rearview mirror.
Metered Parking
Available at the hospital's Main entrance, Asper Institute, McEwen Centre and Sakharov MRI facility.
Meters at the Main entrance have a 30-minute limit. Meters accept quarters, $1, and $2 coins, and are in effect 24 hours a day. Meter rates are $2.50 per half hour.
Street Parking
Limited street parking is available on nearby streets. Please check the time limits.
Parking Passes
Reduced price monthly and weekly passes for the Parkade only can be purchased at the Parking office and must be used to both enter and exit. Only 7- and 30-day passes allow in-and-out privileges. Passes allow entry and exit to one vehicle at any time.
Lost or damaged pass cards – contact the Parking Office.
Motorcycles and Bicycles
Motorcycles/motor scooters can be parked free of charge in designated areas. Bicycles do not require a pass but must be parked at the bike racks provided throughout the campus.
Contact the Parking office for more information.
Liability
Charges are for use of parking space only. No responsibility is assumed for injury to persons using the lots or for loss or damage to vehicle or contents.
Safety
While St. Boniface Hospital has taken steps to protect staff and visitors, we encourage you to be aware of your surroundings at all times and in particular while in the parking lots and Parkade. There are nine "IN CASE OF EMERGENCY" contact stations located in the Parkade for quick communication with Security. The "Assistance" buttons at each parking lot entrance can also be used.
If you would like to have a member of our Security staff escort you to or from your vehicle, or to report any suspicious behaviour, please call 204-237-2205.
Summary of Parking Infractions
The following will result in towing and/or ticketing of an offending vehicle:
Parking without a valid pass.
Parking in roadways, entrance ways, or any areas bearing "No Parking" signs.
Vehicles parking in more than one space.
Parking with a stolen, altered, or illegally obtained pass.
Parking without required decal in "Handicapped Parking" stalls.
Unauthorized parking in a 24 hr reserved stall.
---
Contact Us
Parking Office
Address: Room B1039, 409 Taché Avenue, Winnipeg, MB R2H 2A6
Telephone: 204-237-2319
Email: click here
Office hours:

Monday to Friday, excluding holidays – 7 a.m.- 10 p.m.
After hours, Security may be contacted at 204-237-2205
Parking Services Manager