Sales Kiosks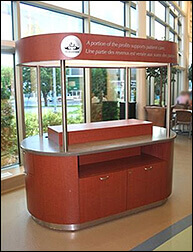 We have a few kiosk display areas available for daily rental opportunities. The kiosks are ideal for crafters, artisans, home-based businesses and information providers.
The kiosks provide excellent opportunities to connect with the patients, visitors and 3800 staff who work at St. Boniface Hospital.
For more information and fee rental, please contact us at:
Telephone: 204-237-2313
Email: kioskrentals@sbgh.mb.ca
Download the Kiosk Rental Vendor Application.