WELCOME TO ST. BONIFACE HOSPITAL
_______________________________________________________________________________________________________________________________________________________________
Candy Cane Lane Christmas Market! November 30 & December 1st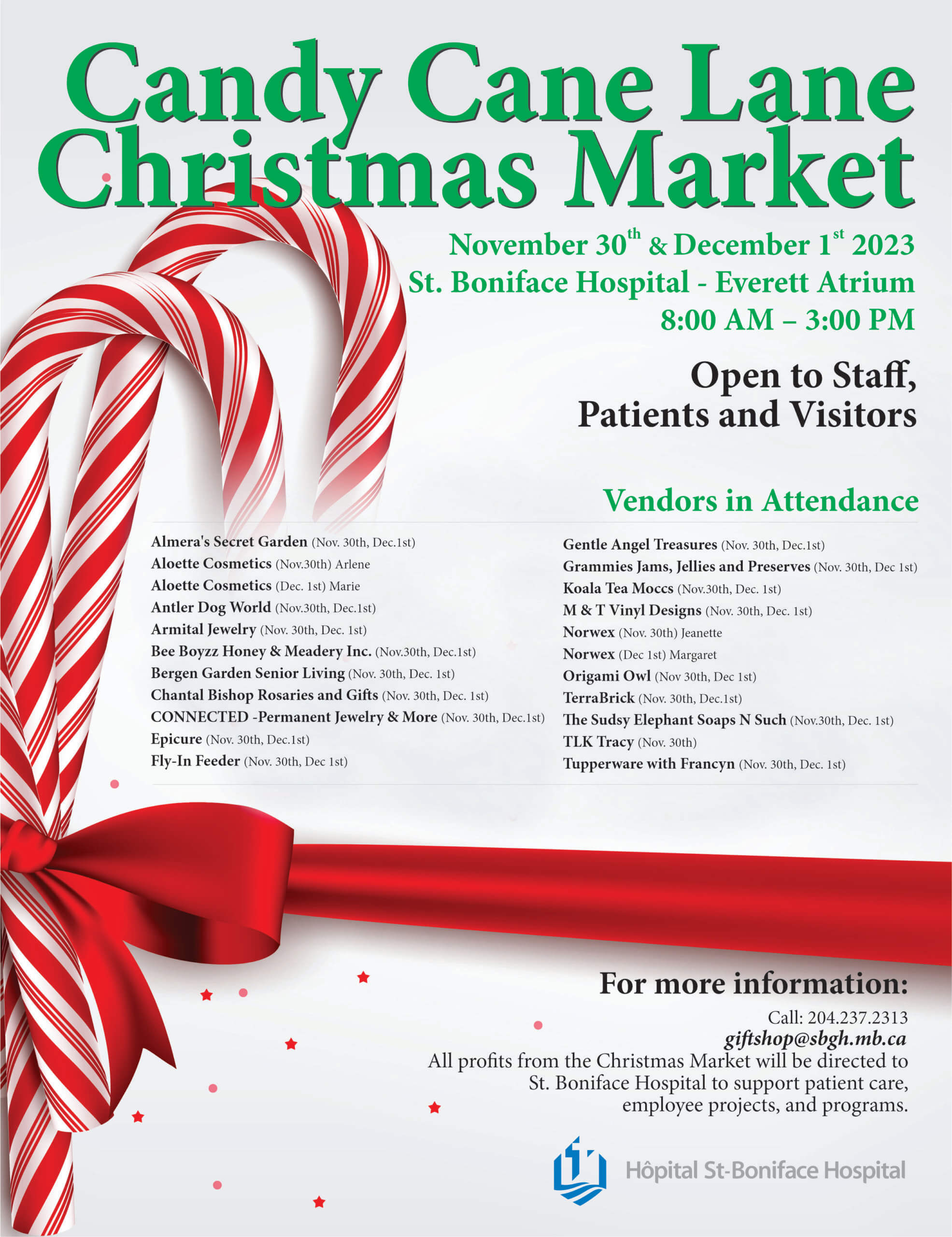 _______________________________________________________________________________________________________________________________________________________________
Parking notice for those visiting St. Boniface Hospital
As construction progresses on the Emergency Department Redevelopment project at St. Boniface Hospital, please note that the north parking lot – located adjacent to the front loop near the Nursing Education Building – is currently closed completely to both staff and the public (as of July 9, 2023) as the new Ambulatory Care (ACF) Clinic structure is installed.
See attached map of construction and closure details.
The closure is expected to last until the clinic structure opens to the public, at which time the north parking lot will partly reopen, which would free up a little more than half the existing stalls. We will advise when this occurs.
We apologize for the inconvenience and any disruption this may cause. We thank all visitors to the hospital for their understanding and patience as we work to expand and improve our emergency department.
_______________________________________________________________________________________________________________________________________________________________
St. B pharmacy assistant helps mother who gave birth in hospital parking lot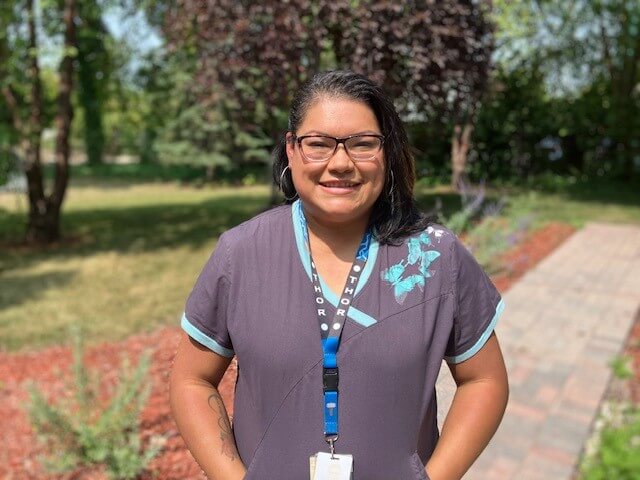 Staff at St. Boniface Hospital are praising one of their own who stepped up to help a couple in need after finishing a long shift over the Canada day long weekend.
Vanessa Reina Regier, a pharmacy assistant, was leaving the hospital on the evening of July 3 when she noticed a man calling for help.
"I was coming out of the south entrance when I was approached by a gentleman in the emergency parking lot," she said.
"He looked distressed and asked me if I was a nurse and I said no, and then he ran back to his SUV."
Vanessa said she knew something was wrong. She said at that point she heard a baby crying.
"Once I heard a baby crying, I ran over to his vehicle and saw a baby in his hands, and his wife in the back of the van crying.
"It was obvious she had just given birth because the umbilical cord was still attached to her and the baby," she said.
Vanessa said her maternal instincts took over, because she immediately knew she had to make sure mom and baby were safe.
"He handed me the baby who was covered in blood, and then I asked him if he had a blanket or a towel to wrap the baby in, and he said no, they were both obviously in shock," she said.
"I noticed he had a t-shirt so I asked him to take off his shirt so I could clean the baby and wrap the baby in it."
Vanessa said the man then ran to the hospital for help while she stayed in the van.
"I wanted to comfort the mom, and she just kept apologizing to me while I held her baby."
Vanessa said the woman thanked her for staying behind, and then asked if the baby was a boy or a girl.
"I couldn't believe it," Vanessa said.
"During this whole ordeal I was shocked she didn't know what they had, so I looked down at the baby and I said 'oh you had a girl', and then she smiled and yelled out to her husband that they had a girl."
Vanessa said she felt so blessed to be part of such a special moment.
"That was pretty neat, that I was the first person to tell her the gender of her new baby."
Vanessa said once the doctors and nurses arrived in the parking lot, they immediately took over and wheeled mom and baby into the hospital.
She said she never got to learn the mother's name and wishes she had so she can check in on the family.
"Everything happened so quickly, your adrenaline is going, I'm trying to keep focus and I didn't even think to get her contact information."
Vanessa said the experience took an emotional toll on her adding she broke down once she got to her car.
"I think once I knew the mom and baby were in the hands of the doctors, I knew I could relax and let go and I just started to cry."
Vanessa said she was exhausted.
"I was a mess, I was covered in blood so I took off my scrub top and drove home in my sports bra," she laughed.
Vanessa's colleagues say they aren't surprised by the incident.
"Vanessa has always been a caring and kind individual offering a warm hug to her co-workers when needed," said her co-worker Bev Aleziuk.
"However, on this day, she went above and beyond supporting this little family in this extraordinary circumstance, we are so proud of Vanessa and her ability to jump into action to help!"
Vanessa said she feels proud knowing that she helped a family in need.
"Looking back, I feel lucky that I was in the right place at the right time, and I'm really happy that I was able to be there for this family."
---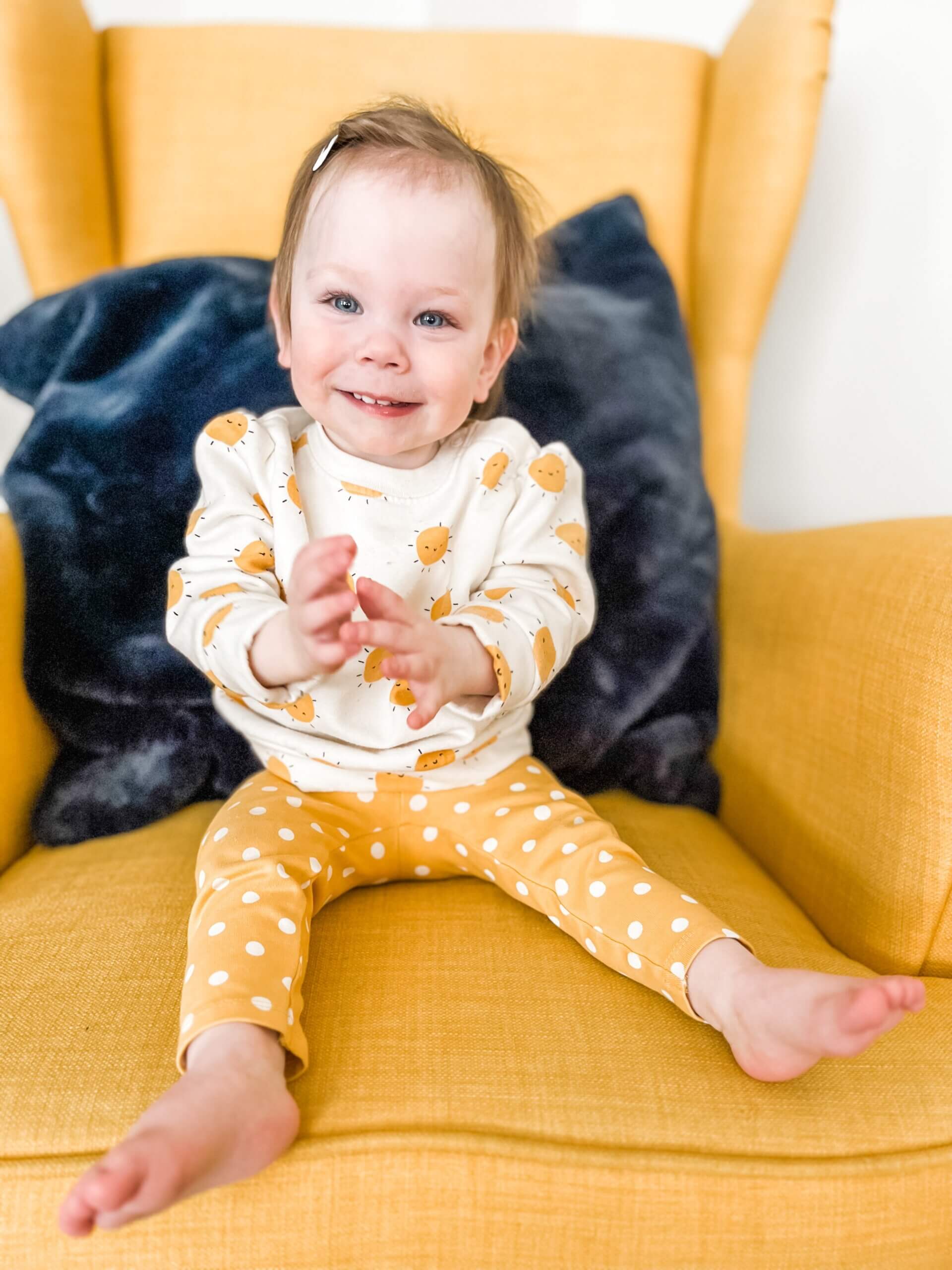 Mother praises video app that connects parents with babies in NICU
What started as a pilot project two and half years ago is now a popular app that keeps parents connected with their babies staying in the Neonatal Intensive Care Unit at St. Boniface Hospital.
vCreate Diaries is a secure video app that allows neonatal staff to record and upload video-clips and photos of the babies which are then shared directly with parents.
The service was a big help to Kelly Burtnyk and her husband who couldn't always be with their baby girl Annie back in December of 2021.
"She was teeny tiny," recalls Burtnyk.
Annie was born premature at 28 weeks weighing just 1 pound ten ounces. Her stay in the NICU lasted 88 days.
________________________________________________________________________________________________________________________________________________________
Staff praised in letter from surgery patient
We take great pride when we hear about a satisfied patient in our hospital. This letter below recently appeared in the Letters to the Editor section in the Winnipeg Free Press.
We would like to echo the kudos to all our staff who had a hand in caring for this patient.
Kudos to hospital staff
Recently I was the beneficiary of surgical stay at St. Boniface Hospital.
I attended with apprehension and trepidation, based on the adverse publicity showered on Winnipeg's health-care system.
To my very pleasant surprise, I encountered the opposite.
From the get-go, I was treated with the utmost respect, concern and assistance. All the hospital staff were polite, efficient and incredibly accommodating. In particular, I was impressed by their positive attitude. This applied to everyone I encountered; from the cleaning staff, the orderlies, nurse assistants and the nurses and of course the surgical staff. Their individual positive attitude made it clear to me they were proud to be able to work at St. Boniface hospital. Actually, quite inspiring.
It was evident to me that kind of attitude can only be generated by exceptional management leadership.
I was truly blessed.
W. Al Redekopp
Winnipeg
____________________________________________________________________________________________________________________________________________________________
Join our Patient & Family Advisory Council
St. Boniface Hospital is currently recruiting for our Patient and Family Advisory Council (PFAC).
Members are former patients or family members of patients who received care at St. Boniface Hospital, and who share a common interest: helping improve the patient's experience and quality of care.
Council members support hospital staff by providing input and advice on issues that matter most to patients and their families, including the development of new programs, services, and tools.
For more information, or to apply to join PFAC, click here.
---
New wayfinding system with a fresh look coming to St. B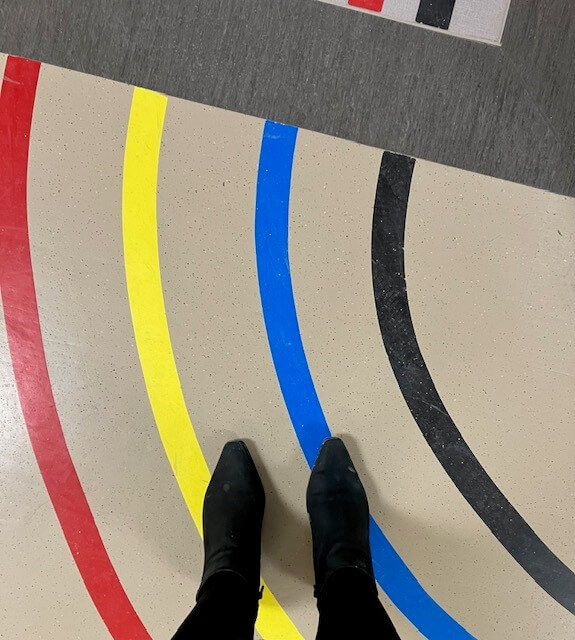 March 30, 2023 -Visitors and staff at St. Boniface Hospital will soon be able to get around the site a little easier with new signage and colour-coded zones, as part of a hospital-wide wayfinding project.
"We want patients to get to their appointments easily, and help people find exits, and different rooms throughout the hospital more quickly," said Senior Corporate Affairs and Engagement Officer Paul Turenne.
SBH has hired Fathom Studio, based in Nova Scotia, to design the new signage and wayfinding system. The company has done similar projects for the University of Manitoba campus, and national parks across Eastern Canada, among others.
Turenne said directional signs inside the main hospital, including the floor graphics, are getting a new look. One of the more noticeable changes will likely be the use of zones.
---
Manitoba's first hybrid OR opens at St. Boniface Hospital, thanks to Foundation donors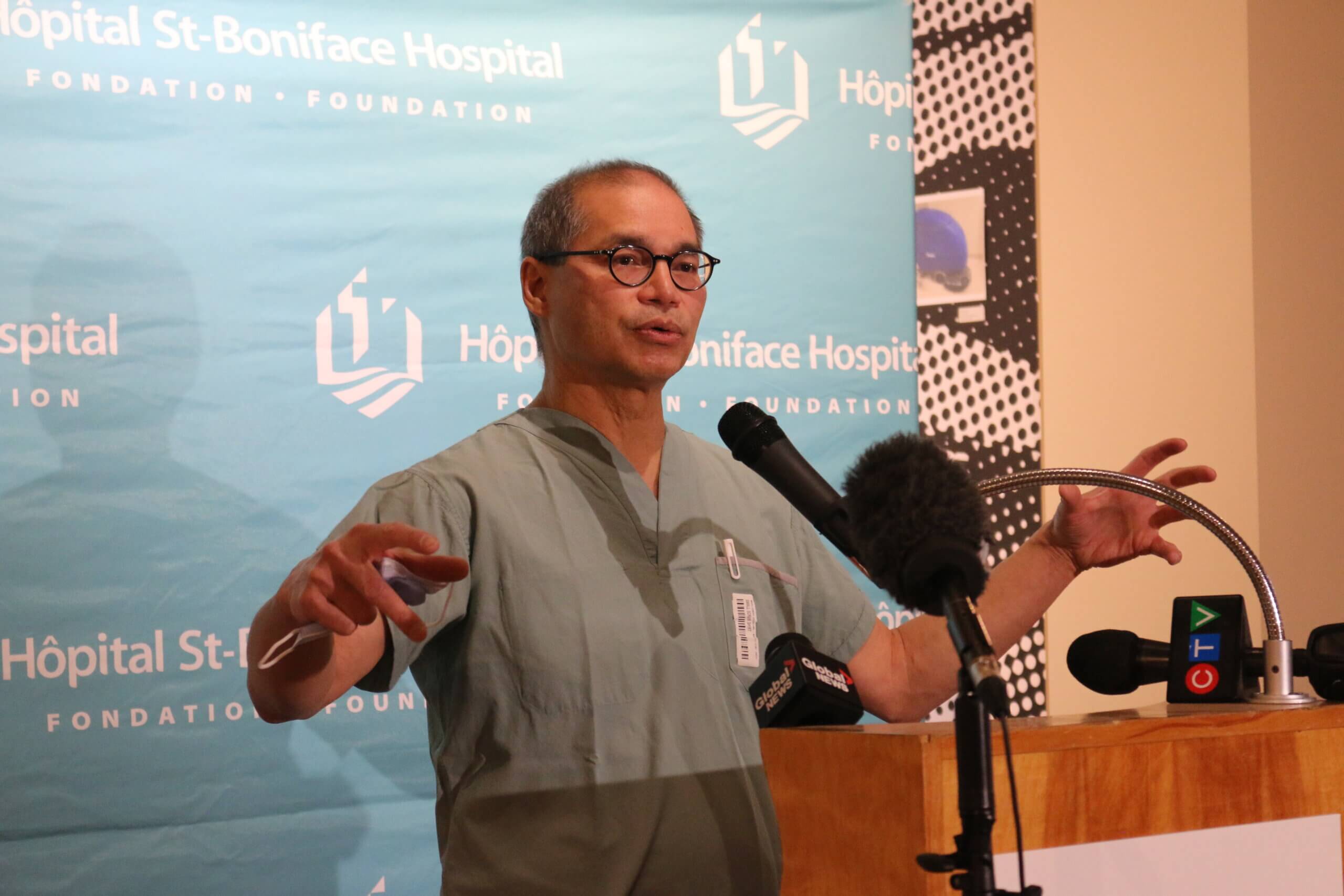 December 20, 2022 – St. Boniface Hospital Foundation announced today the completion of Manitoba's first endovascular hybrid operating room. Foundation donors, who fully funded the initiative, made the $6.5 million project possible for St. Boniface Hospital.
A hybrid operating room is a surgical theatre equipped with advanced medical imaging devices that enable and simplify minimally invasive surgery, which is less traumatic for patients. St. Boniface Hospital's hybrid operating room will make the best outcomes possible, saving more lives and getting patients back to the people they love sooner.
---
St. Boniface Hospital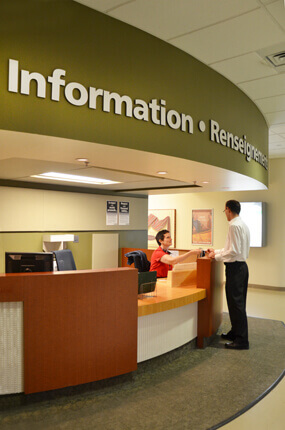 St. Boniface Hospital has been providing leadership in health care on behalf of Manitobans since it was first established by the Grey Nuns in 1871.
The Everett Atrium serves as the main entrance for St. Boniface Hospital, located at 409 Taché Avenue.
A public space, it includes the main Inquiry Desk, several retail services available to patients, visitors, and staff , and leads to the Buhler Gallery, an art gallery open to all.
We invite patients and visitors to ask the staff at the Main Information Desk for directions and wayfinding.
---