Visitor Restrictions – Upcoming changes
At their daily COVID-19 briefing yesterday, Shared Health and Public Health announced the gradual easing of visitor restrictions for hospitals across the province. We will begin allowing expanded visitor access for visiting patients in hospital starting the week of June 8.
Current visitor restrictions remain in place for now. St. Boniface Hospital is currently reviewing how to allow patients to see loved ones in person while keeping measures to prevent the introduction and spread of COVID-19.
We will be updating this page as more details become available.
COVID-19 (Coronavirus) information for the public
COVID-19 Response – Entrance & Visitor Restrictions, effective 6 pm, 17 March 2020
Designated Entrances
Effective Tuesday, March 17 at 6 p.m. – and until further notice – St. Boniface Hospital is restricting access to two (2) designated entry points in its main hospital building:
Everett Atrium (open 24 hours a day): All staff and patients (1 escort per patient under exceptional circumstances)
South Entrance (open from 7 a.m. to 6 p.m. every day): CancerCare patients and cardiac patients with appointments at the Bergen Cardiac Care Centre (Y2) ONLY
Please note that Emergency entrance remains open as usual for patients needing Emergency care.
Dialysis patients will be able to continue accessing the back entrance in C Block of the main hospital for their treatments as they currently do.
Patients
Patients arriving at the hospital for a scheduled appointment or procedure will be screened for symptoms and travel history.
 Visitor Restrictions
All visitors are restricted from the Hospital except on a compassionate basis and will be screened accordingly. In exceptional circumstances, an escort may be allowed to accompany a patient. For example, the partner of a labouring mother and the parents/caregivers of an infant in NICU would fall in this category.
We appreciate your patience as we work through any issues and adjust accordingly.
Other buildings on campus: Entry points for patients
McEwen Building
MRI
Asper Institute
Communication with Patients
Click here for information on communicating with patients in Winnipeg Intensive Care Units, including St. Boniface Hospital.
All Patient Care Units
We encourage you to use our Well Wishes Program to let your loved one know you are thinking about them.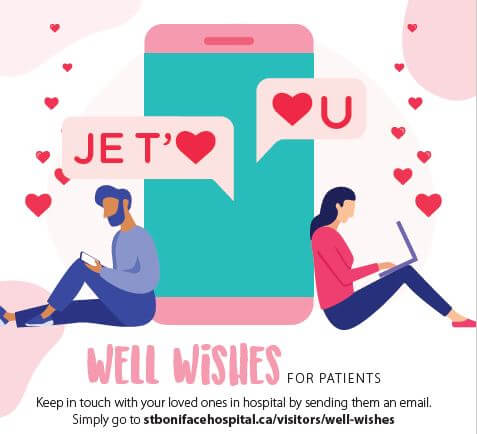 Welcome to St. Boniface Hospital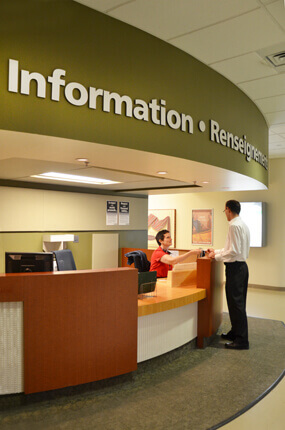 St. Boniface Hospital has been providing leadership in health care on behalf of Manitobans since it was first established by the Grey Nuns in 1871.
The Everett Atrium serves as the main entrance for St. Boniface Hospital, located at 409 Taché Avenue.
A public space, it includes the main Inquiry Desk, several retail services available to patients, visitors, and staff , and leads to the Buhler Gallery, an art gallery open to all.
We invite patients and visitors to ask the staff at the Main Information Desk for directions and wayfinding.
---
Help Us Reduce the Spread of Infections
PROVINCIAL POSTER
Hand hygiene is the #1 way to prevent the spread of infections. Hand sanitizers are conveniently located throughout the hospital… before entrances, on patient care units, and near elevators. Please use them!
Your doctors and nurses should practice hand hygiene every time they enter your room.
Clean your hands before eating, after using the restroom, and after touching surfaces in the hospital.