Welcome to St. Boniface Hospital
---
Parking temporarily reduced September 12-16
Please note the availability of parking in our front entrance parking lot (located along Taché Ave. near the Nursing Education Building) will be reduced from September 12 to September 16.
Thirty-six (36) stalls in the area highlighted in yellow will be closed for the week, as we prepare the lot for the temporary relocation of ACF clinics. Another seven (7) stalls, area highlighted in green, will be closed for three (3) days this week to prepare for installation of a sidewalk.
We apologize for the inconvenience and encourage people to consider alternative parking options, including the parkade across Taché and the south lot located near the St. Boniface Clinic, which is accessible off Goulet Place.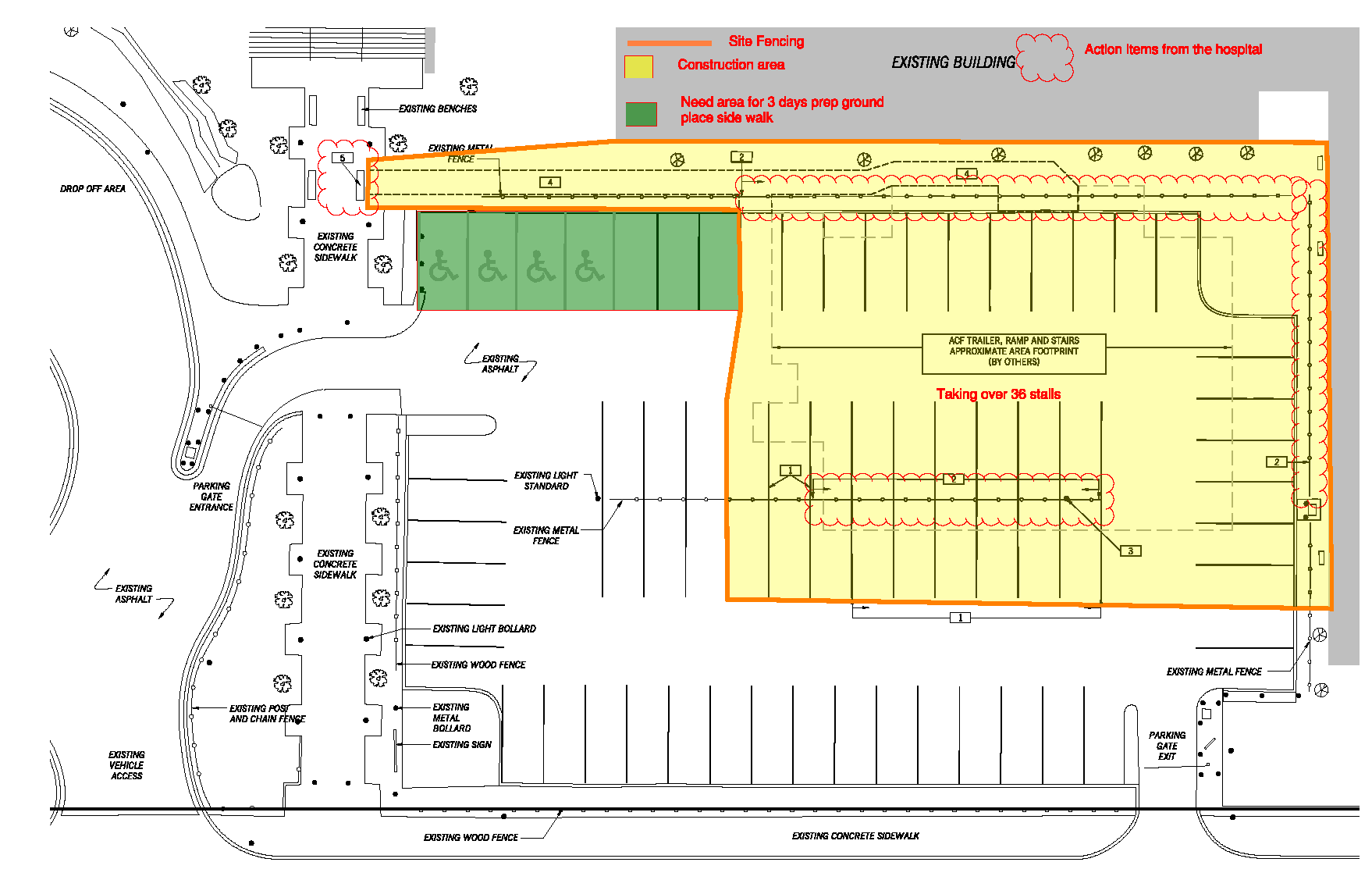 Visitor Access
(Updated: July 20, 2022)
Essential care partners and general (social) visitors no longer need to provide proof of vaccination prior to visiting a patient. They will continue to be screened for Covid-19 symptoms and will be asked to ensure proper hand hygiene.
Visitors no longer have to sign in and sign out of visitor logs on the unit, but are still required to check in with the unit desk to ensure a patient visit can be permitted. Click here for the Covid-19 Frequently Asked Questions for Families document.
Visitors must enter through the main entrance for verification. Two visitors at a time are allowed to visit a patient. Physical distancing between patients and visitors is encouraged, but not required.
Medical masks provided by St. Boniface Hospital will continue to be required upon entry to the hospital, and care teams will continue to provide guidance for any additional personal protective equipment (PPE) required.
Please note that hours for general (social) visits are from 10 a.m. to 8 p.m. daily.
Important note: To prevent the spread of infection, no visits are allowed on units experiencing a COVID outbreak. Therefore, visitation privileges on any unit are subject to sudden cancellation when an outbreak is declared.
---
How to navigate St. Boniface Hospital during Emergency Department reconstruction
(July 18, 2022)
Work on St. Boniface Hospital's new Emergency Department is well underway, and while this is an exciting project for our whole health care system, the reality is that the construction has ongoing and evolving impacts on how staff, patients and visitors access the hospital campus.
To be clear, St. Boniface Hospital is still fully open and accessible for all services – but how you navigate getting to the hospital may be a little bit different next time you're here.
---
Notice regarding hospital access during construction
(May 13, 2022)
As a result of the Emergency Redevelopment construction project, there is currently no access via Taché Avenue to the West Block buildings at St. Boniface Hospital (Albrechtsen Research Centre, Dr. Andrei Sakharov MRI facility, IH Asper Institute, McEwen Building). Access to these buildings is via Goulet Place, located off Goulet Street, just west of Taché Avenue, until the spring of 2023. Please note the hospital's south entrance will also be closing May 31 and will remain closed until spring 2023.
To view maps and directions related to the ED project, visit Maps and Directions – St Boniface Hospital
---
Designated Entrances
(August 6, 2021)
The two (2) entry points to the main hospital building are the
Everett Atrium (main entrance): Access 24 hours a day, 7 days a week. Visitors must use this entrance (see Visitor Access restrictions below).
South Entrance: Access Monday to Friday from 6:45 a.m. to 4 p.m. Closed weekends and statutory holidays. Only outpatients with appointments may use this entrance.
The Emergency entrance remains open as usual for patients needing emergency care.
Since March 15, 2021 a medical mask is provided to you and must be worn in the facility. Please wear your mask for the duration of your visit.
---
Communication with Patients
Click here for information on communicating with patients in Winnipeg Intensive Care Units, including St. Boniface Hospital.
All Patient Care Units
We encourage you to use our Well Wishes Program to let your loved one know you are thinking about them.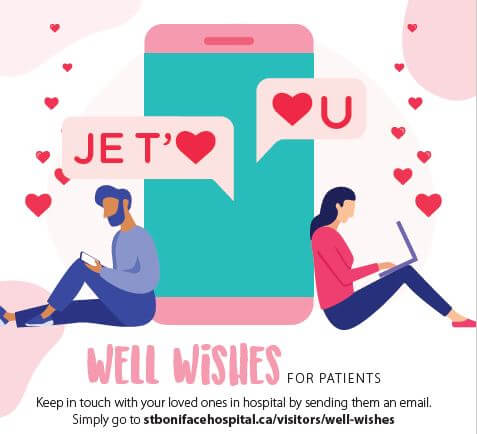 ---
St. Boniface Hospital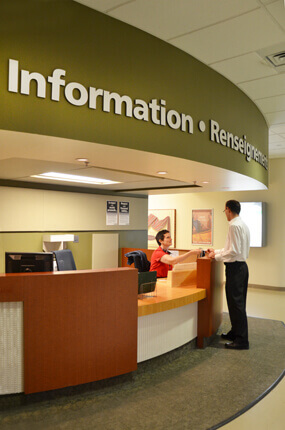 St. Boniface Hospital has been providing leadership in health care on behalf of Manitobans since it was first established by the Grey Nuns in 1871.
The Everett Atrium serves as the main entrance for St. Boniface Hospital, located at 409 Taché Avenue.
A public space, it includes the main Inquiry Desk, several retail services available to patients, visitors, and staff , and leads to the Buhler Gallery, an art gallery open to all.
We invite patients and visitors to ask the staff at the Main Information Desk for directions and wayfinding.
---
Help Us Reduce the Spread of Infections
PROVINCIAL POSTER
Hand hygiene is the #1 way to prevent the spread of infections. Hand sanitizers are conveniently located throughout the hospital… before entrances, on patient care units, and near elevators. Please use them!
Your doctors and nurses should practice hand hygiene every time they enter your room.
Clean your hands before eating, after using the restroom, and after touching surfaces in the hospital.