Welcome to St. Boniface Hospital
COVID-19 Outbreak Update
(October 30, 2020)
We continue our investigation of outbreaks on three units. Today's update includes:
No new patients have tested positive for COVID-19 since our last update.
One additional staff has tested positive for COVID-19 since our last update.
One new death, attributed to a patient transferred from the Parkview Place outbreak, is being reported, bringing the total to five (5) deaths.
"On behalf of the entire St. Boniface Hospital family, we offer our deepest condolences to these patients' families and loved ones at this difficult time," said Martine Bouchard, St. Boniface Hospital, President & CEO. "The safety of our patients, staff, physicians and visitors is paramount. Our teams continue to work tirelessly and collaboratively to contain transmission of the virus and provide a safe environment for all."
Outbreak protocols have been implemented at the hospital to ensure the ongoing protection of patients, staff and visitors. To help stop the spread of COVID-19, the following measures have been implemented:
Visitor restrictions are currently in place at St. Boniface Hospital. We encourage families to continue to meet virtually with their loved ones.
Testing of patients and staff continues. All potential contacts are being traced to ensure we reduce the possibility of spread and we are following Occupational Health & Safety and Public Health isolation and testing protocols.
Enhanced environmental cleaning and disinfection of high touch surfaces.
Ensuring the proper use of Personal Protective Equipment, including donning and doffing of equipment.
Ensuring physical distancing on units and common areas.
Promoting proper hand hygiene practices.
St. Boniface Hospital remains open. Clinics and procedures continue unless advised otherwise.
We would like to reassure the community we are doing everything we can to contain the transmission of COVID-19 at our facility.
Our efforts continue to keep patients, staff and our community safe.
Regular updates will be provided on this web page as the situation unfolds.
Critical Care Overcapacity (Update: October 29, 2020 at 7: 40 p.m.)
Our Intensive Care Medicine Surgery (ICMS) unit – where we care for our most critical patients – is now over capacity with all fourteen beds occupied. As this unit is full, we have had to admit a patient to the Intensive Care Cardiac Surgery (ICCS) unit.
ICCS is unable to take any further patients as staff have been furloughed (told to take a leave of absence) due to exposure from a patient.
At this point in time, more than half of the patients needing critical care are COVID-positive. We know that patients being treated for COVID-19 remain in intensive care for longer periods of time than other critical care patients. This puts additional pressure on our capacity.
Please note that we cannot expand our capacity without canceling further surgeries. Doing so would free up additional staff who could be deployed to treat ICU patients. While this matter is under consideration, we are mindful of the potential impacts on surgical patients most in need. We will continue to keep you advised.
In the meantime our regional partners, Health Sciences Centre (a tertiary care facility) and Grace Hospital (acute care) are working with us to create capacity to meet the surge in patients that will need critical care going forward. 
"We pause to thank our employees for dedicating themselves to the superior care they are providing under the most trying of circumstances," said Martine Bouchard, St. Boniface Hospital President & CEO. "We also encourage every Manitoban to once again join the team in helping to flatten the curve. Together, we can make a huge difference in protecting our patients and staff alike."
Some Surgeries Postponed
(Updated: October 28 at 12:30 p.m.)
St. Boniface Hospital has had to postpone general and cardiac surgeries due to potential COVID-19 exposure of our operating room and critical care teams, who, as a result, are required to be off work for 14 days.
We have worked closely with the Regional Surgery Program to avoid as many postponements as possible.
Non-urgent or elective surgery requiring inpatient admission are being postponed. We have reached out to patients whose surgery is affected.
Surgeries will be prioritized for urgent/emergent cases, inpatients waiting in hospital, cardiac and cancer patients, and previously cancelled patients.
We are monitoring the situation daily to minimize the impact on our patients awaiting surgery.
Mandatory Masks for visitors
(effective September 1, 2020)
To further support Manitoba's COVID-19 prevention efforts, all visitors to St. Boniface Hospital will be asked to wear their own non-medical mask while on premises, beginning Tuesday, September 1.  Masks can be purchased at our Gift Shop or in Shoppers Drug Mart.  Some exemptions apply, for more details:
---
COVID-19 (Coronavirus) information for the public
---
Designated Entry Points
(updated October 2020)
St. Boniface Hospital is restricting access to two (2) designated entry points in its main hospital building:
Everett Atrium (open 24 hours a day): All staff and patients (1 escort per patient under exceptional circumstances)
South Entrance (open from 7 a.m. to 4 p.m. every day): CancerCare patients and cardiac patients with appointments at the Bergen Cardiac Care Centre (Y2) ONLY
Please note that Emergency entrance remains open as usual for patients needing Emergency care.
Dialysis patients will be able to continue accessing the back entrance in C Block of the main hospital for their treatments as they currently do.
Patients and visitors
Patients and visitors arriving at the hospital for a scheduled appointment or procedure will be screened for symptoms and travel history.
---
Communication with Patients
Click here for information on communicating with patients in Winnipeg Intensive Care Units, including St. Boniface Hospital.
All Patient Care Units
We encourage you to use our Well Wishes Program to let your loved one know you are thinking about them.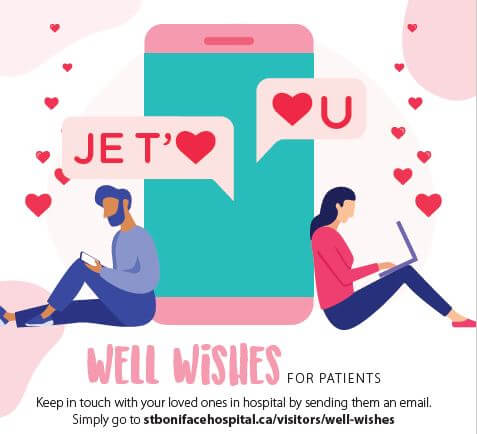 ---
St. Boniface Hospital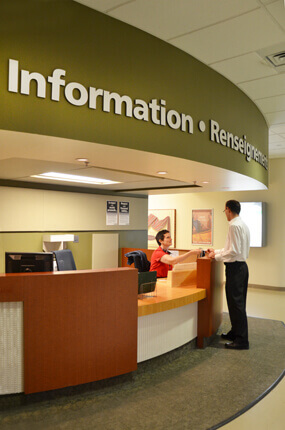 St. Boniface Hospital has been providing leadership in health care on behalf of Manitobans since it was first established by the Grey Nuns in 1871.
The Everett Atrium serves as the main entrance for St. Boniface Hospital, located at 409 Taché Avenue.
A public space, it includes the main Inquiry Desk, several retail services available to patients, visitors, and staff , and leads to the Buhler Gallery, an art gallery open to all.
We invite patients and visitors to ask the staff at the Main Information Desk for directions and wayfinding.
---
Help Us Reduce the Spread of Infections
PROVINCIAL POSTER
Hand hygiene is the #1 way to prevent the spread of infections. Hand sanitizers are conveniently located throughout the hospital… before entrances, on patient care units, and near elevators. Please use them!
Your doctors and nurses should practice hand hygiene every time they enter your room.
Clean your hands before eating, after using the restroom, and after touching surfaces in the hospital.