Welcome to St. Boniface Hospital
COVID-19 Information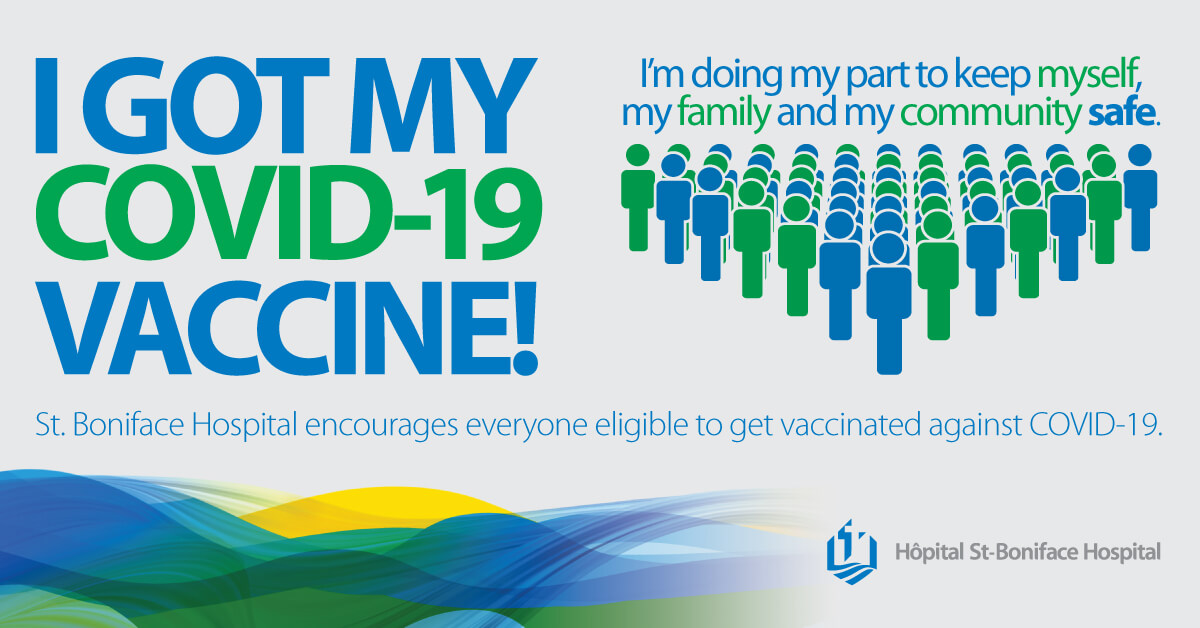 Designated Entrances
The two (2) entry points to the main hospital building are the
Everett Atrium (main entrance): Access 24 hours a day, 7 days a week. Visitors must use this entrance (see Visitor Access restrictions below).
South Entrance: Access Monday to Friday from 7 a.m. to 4 p.m. Closed weekends and statutory holidays. Only outpatients with appointments may use this entrance.
The Emergency entrance remains open as usual for patients needing emergency care.
Since March 15, 2021 a medical mask is provided to you and must be worn in the facility. Please wear your mask for the duration of your visit.
---
Visitor Access
Visitor access for inpatients is restricted. At the discretion of the care team, exceptions will be made on a case-by-case basis. For essential care partner and visitor guidelines, click here. Thank you for your support in keeping everyone safe.
---
COVID-19 Outbreak Update
(April 19, 2021)
The outbreak on B5, declared on April 1, 2021, has been resolved as of April 15, 2021. Related to this outbreak, there were five (5) patients and one (1) employee who tested positive, and two (2) deaths. There are no current outbreaks at St. Boniface Hospital.
We extend our sincere condolences on behalf of the entire St. Boniface Hospital community to the families who have lost a loved one at this difficult time.
---
Communication with Patients
Click here for information on communicating with patients in Winnipeg Intensive Care Units, including St. Boniface Hospital.
All Patient Care Units
We encourage you to use our Well Wishes Program to let your loved one know you are thinking about them.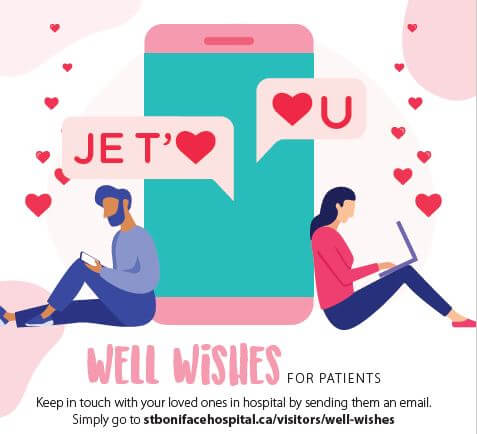 ---
St. Boniface Hospital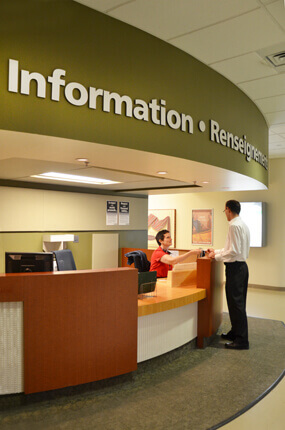 St. Boniface Hospital has been providing leadership in health care on behalf of Manitobans since it was first established by the Grey Nuns in 1871.
The Everett Atrium serves as the main entrance for St. Boniface Hospital, located at 409 Taché Avenue.
A public space, it includes the main Inquiry Desk, several retail services available to patients, visitors, and staff , and leads to the Buhler Gallery, an art gallery open to all.
We invite patients and visitors to ask the staff at the Main Information Desk for directions and wayfinding.
---
Help Us Reduce the Spread of Infections
PROVINCIAL POSTER
Hand hygiene is the #1 way to prevent the spread of infections. Hand sanitizers are conveniently located throughout the hospital… before entrances, on patient care units, and near elevators. Please use them!
Your doctors and nurses should practice hand hygiene every time they enter your room.
Clean your hands before eating, after using the restroom, and after touching surfaces in the hospital.