Welcome to St. Boniface Hospital
COVID-19 Information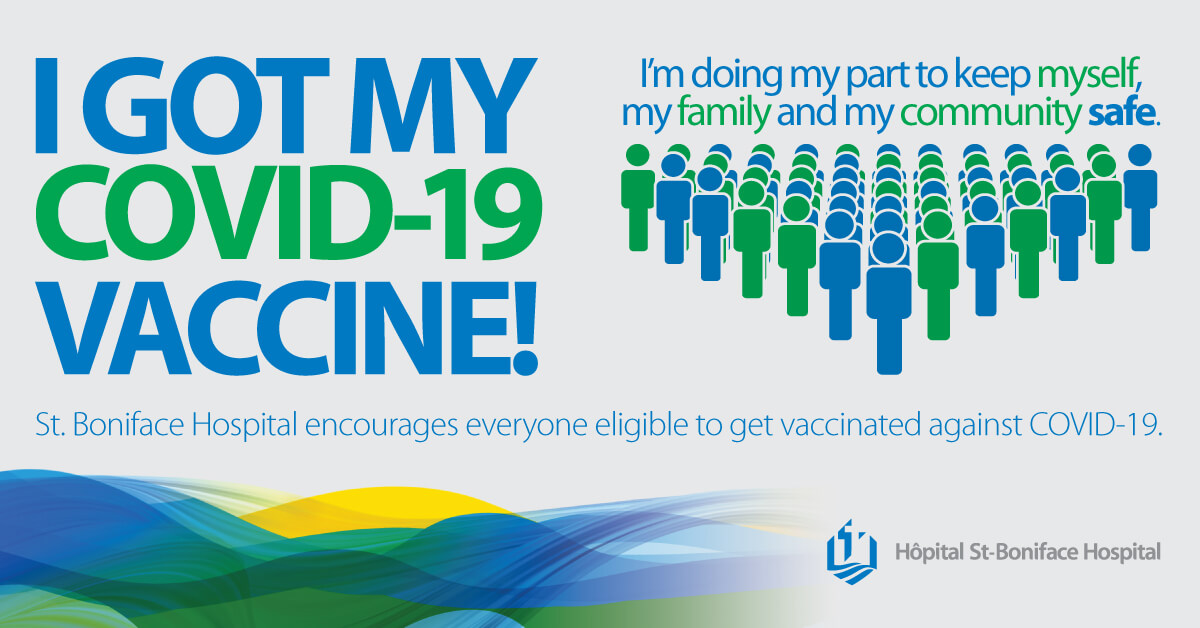 ---
Designated Entrances
(August 6, 2021)
The two (2) entry points to the main hospital building are the
Everett Atrium (main entrance): Access 24 hours a day, 7 days a week. Visitors must use this entrance (see Visitor Access restrictions below).
South Entrance: Access Monday to Friday from 6:45 a.m. to 4 p.m. Closed weekends and statutory holidays. Only outpatients with appointments may use this entrance.
The Emergency entrance remains open as usual for patients needing emergency care.
Since March 15, 2021 a medical mask is provided to you and must be worn in the facility. Please wear your mask for the duration of your visit.
---
Visitor Access
(August 5, 2021)
Visitor access continues unchanged for fully vaccinated visitors and patients. General visits to patients in hospital may occur under certain conditions. Visiting hours are from 10 a.m. to 8 p.m. daily. Read more here. To consult our frequently asked questions about social visits, please click here.
---
Every Child Matters – St. B marks residential school tragedy
Our thoughts today are with the families and communities in mourning for the 215 residential school children discovered on the grounds of the former Kamloops Indian Residential School late last week. To all affected, we extend our heartfelt condolences and restate our commitment to keep the conversation going in order to expand our understanding of the historical events between Canada's Indigenous and non-Indigenous peoples.
To acknowledge this terrible loss and the lives taken, St. Boniface Hospital has lowered the Canadian flag outside the hospital's main entrance, and the illuminated cross atop our building will be set to glow amber-orange: a colour symbolizing the trauma endured by Indigenous students taken from their families, made famous through the story of Phyllis Webstad and Orange Shirt Day first started in 2013.
May the children discovered in Kamloops soon be reunited with their families to be laid to rest with the dignity they deserve, because every child matters. (31 May 2021)
---
Communication with Patients
Click here for information on communicating with patients in Winnipeg Intensive Care Units, including St. Boniface Hospital.
All Patient Care Units
We encourage you to use our Well Wishes Program to let your loved one know you are thinking about them.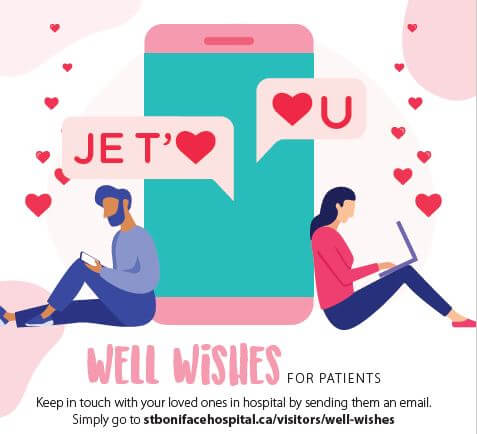 ---
St. Boniface Hospital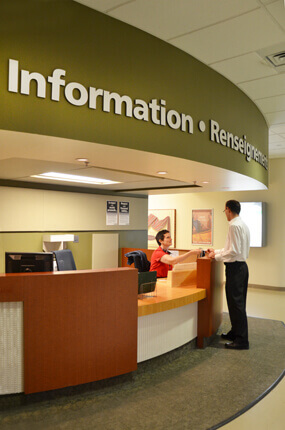 St. Boniface Hospital has been providing leadership in health care on behalf of Manitobans since it was first established by the Grey Nuns in 1871.
The Everett Atrium serves as the main entrance for St. Boniface Hospital, located at 409 Taché Avenue.
A public space, it includes the main Inquiry Desk, several retail services available to patients, visitors, and staff , and leads to the Buhler Gallery, an art gallery open to all.
We invite patients and visitors to ask the staff at the Main Information Desk for directions and wayfinding.
---
Help Us Reduce the Spread of Infections
PROVINCIAL POSTER
Hand hygiene is the #1 way to prevent the spread of infections. Hand sanitizers are conveniently located throughout the hospital… before entrances, on patient care units, and near elevators. Please use them!
Your doctors and nurses should practice hand hygiene every time they enter your room.
Clean your hands before eating, after using the restroom, and after touching surfaces in the hospital.