Welcome to St. Boniface Hospital
Join our Patient & Family Advisory Council
St. Boniface Hospital is currently recruiting for our Patient and Family Advisory Council (PFAC).
Members are former patients or family members of patients who received care at St. Boniface Hospital, and who share a common interest: helping improve the patient's experience and quality of care.
Council members support hospital staff by providing input and advice on issues that matter most to patients and their families, including the development of new programs, services, and tools.
For more information, or to apply to join PFAC, click here.
COVID-19 information for the public
---
South Entrance Access at St. Boniface Hospital
As construction progresses on the Emergency Department redevelopment project at St. Boniface Hospital, some changes are coming that will impact the South Entrance of the hospital.
---
Manitoba's first hybrid OR opens at St. Boniface Hospital, thanks to Foundation donors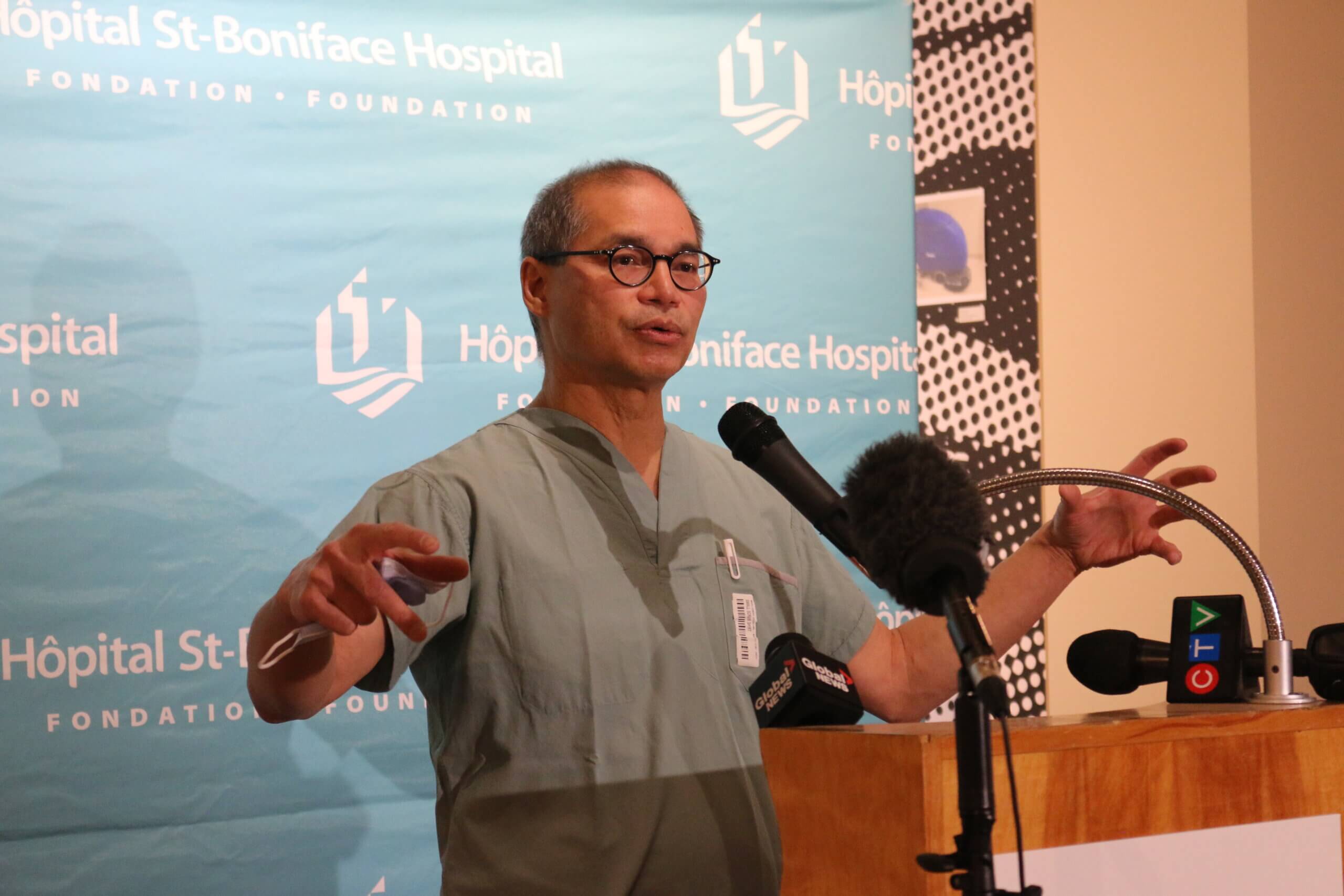 December 20, 2022 – St. Boniface Hospital Foundation announced today the completion of Manitoba's first endovascular hybrid operating room. Foundation donors, who fully funded the initiative, made the $6.5 million project possible for St. Boniface Hospital.
A hybrid operating room is a surgical theatre equipped with advanced medical imaging devices that enable and simplify minimally invasive surgery, which is less traumatic for patients. St. Boniface Hospital's hybrid operating room will make the best outcomes possible, saving more lives and getting patients back to the people they love sooner.
---
St. Boniface Hospital mourns the loss of Tom Carson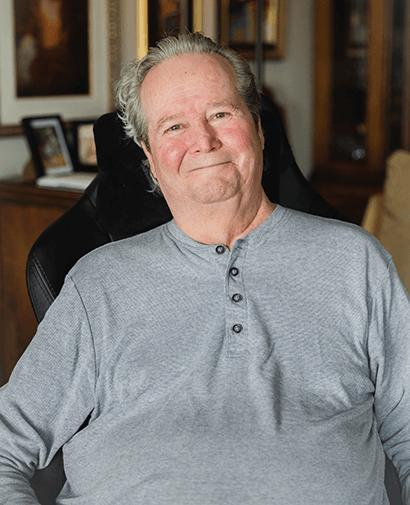 St. Boniface Hospital is mourning the loss of Tom Carson, a longtime hospital board member and former board chair.
Tom passed away Nov. 16 at the age of 75. He will be dearly missed.
Tom first joined the St. Boniface Hospital Board of Directors in 2009, and remained a board member and a member of the board's Finance and Audit Committee right up until his recent passing.
He served as board chair for five years, including being at the helm throughout the COVID-19 pandemic, only retiring as chair in June 2022.
Tom was known as a cheerful, kind-hearted person, as well as being a skilled, professional and highly competent board chair and director, who always had the best interests of the hospital's patients and staff at heart.
The entire St. Boniface Hospital community mourns his passing, and sends its sincere condolences to Tom's family and many friends.
---
Visitor Access
(Updated: September 29, 2022)
Essential care partners and general (social) visitors no longer need to provide proof of vaccination prior to visiting a patient. They will continue to be screened for Covid-19 symptoms and will be asked to ensure proper hand hygiene.
Visitors no longer have to sign in and sign out of visitor logs on the unit, but are still required to check in with the unit desk to ensure a patient visit can be permitted. Click here for the most recent visitor guidelines. Click here for poster.
Visitors must enter through the main entrance for verification. Two visitors at a time are allowed to visit a patient. Physical distancing between patients and visitors is encouraged, but not required.
Medical masks provided by St. Boniface Hospital will continue to be required upon entry to the hospital, and care teams will continue to provide guidance for any additional personal protective equipment (PPE) required.
Please note that hours for general (social) visits are from 10 a.m. to 8 p.m. daily.
Important note: To prevent the spread of infection, no visits are allowed on units experiencing a COVID outbreak. Therefore, visitation privileges on any unit are subject to sudden cancellation when an outbreak is declared.
---
Designated Entrance
(September 2022)
The entry point to the main hospital building isthe
Everett Atrium (main entrance): Access 24 hours a day, 7 days a week. Visitors must use this entrance.
The Emergency entrance remains open as usual for patients needing emergency care.
Since March 15, 2021 a medical mask is provided to you and must be worn in the facility. Please wear your mask for the duration of your visit.
---
Communication with Patients
Click here for information on communicating with patients in Winnipeg Intensive Care Units, including St. Boniface Hospital.
All Patient Care Units
We encourage you to use our Well Wishes Program to let your loved one know you are thinking about them.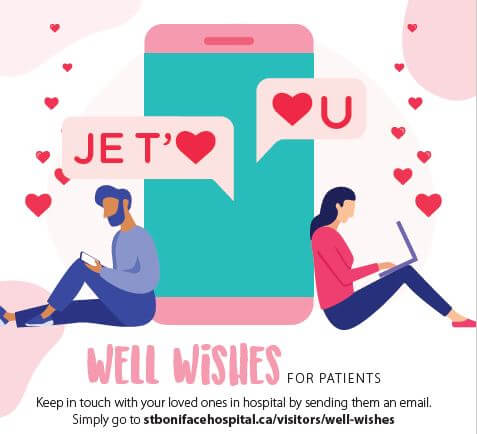 ---
St. Boniface Hospital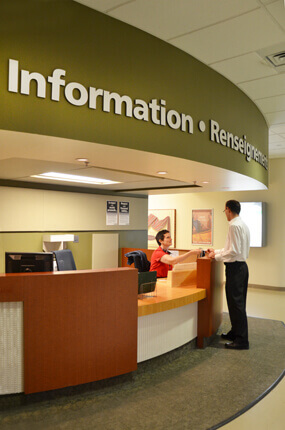 St. Boniface Hospital has been providing leadership in health care on behalf of Manitobans since it was first established by the Grey Nuns in 1871.
The Everett Atrium serves as the main entrance for St. Boniface Hospital, located at 409 Taché Avenue.
A public space, it includes the main Inquiry Desk, several retail services available to patients, visitors, and staff , and leads to the Buhler Gallery, an art gallery open to all.
We invite patients and visitors to ask the staff at the Main Information Desk for directions and wayfinding.
---
Help Us Reduce the Spread of Infections
PROVINCIAL POSTER
Hand hygiene is the #1 way to prevent the spread of infections. Hand sanitizers are conveniently located throughout the hospital… before entrances, on patient care units, and near elevators. Please use them!
Your doctors and nurses should practice hand hygiene every time they enter your room.
Clean your hands before eating, after using the restroom, and after touching surfaces in the hospital.