Volunteer Services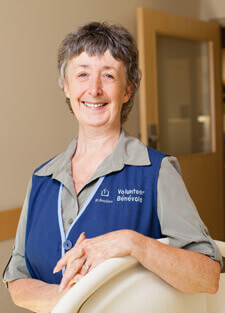 Volunteers are an important part of St. Boniface Hospital (SBH) and have a long-lasting impact on the patient's experience. St. Boniface Hospital is fortunate to benefit from the talent and expertise of over 350 volunteers who donate over 40,000 hours of their time to the Hospital each year.
Volunteers can be found in many areas of the Hospital, providing comfort and care to patients and their families, and supporting professional staff, enhancing their ability to provide the best possible care to patients. Volunteer positions are available seven days per week.
St. Boniface Hospital is also fortunate to benefit from volunteers as members of various boards and committees, including the Patient and Family Advisory Council. Volunteers also participate in improvement activities, representing the voice of the patient. Their experiences and insights help guide decisions and connect St. Boniface Hospital with the community it serves.
Note: Our Baby Cuddler team of volunteers is currently full but we are accepting volunteer applications for other positions. Thank you for your interest.
For more information about volunteering at St. Boniface Hospital, contact Volunteer Services at:
409 Taché Avenue
Room A1113
Winnipeg, Manitoba R2H 2A6
Office hours: Monday to Friday, 8 a.m. to 4 p.m.
Telephone: 204-237-2442
Fax: 204-258-1350
Email: [email protected]
Volunteer Work Speaks Volumes
Year in Review
Read about some of our dedicated volunteers in our 2016-2017 Volunteer Services Year in Review.