MASH audit a success!
St. Boniface Hospital is now a SAFE Work certified facility after it recently passed an audit with the Manitoba Association of Safety in Healthcare (MASH) making us the first hospital in Winnipeg, and the first tertiary care centre in Manitoba to achieve this type of certification.
Our hospital scored 90 percent when it comes to meeting legislative standards for promoting a safety culture to help prevent workplace injuries.
"It's a real testament to the hard work and dedication many of our staff have put in the last year to making sure our hospital is a safe place to work, and a safe space for the community we serve," said SBH President and CEO Nicole Aminot.
Aminot was joined by representatives of MASH in the Everett Atrium on July 21, 2023 where there was a small celebration with the presentation of the safety certificate, along with cake for staff.
MASH is a provincial safety program and available to all health-care facilities in Manitoba to ensure safety of all personnel and the compliance with safety legislation. A 15% rebate incentive on WCB premiums is offered for facilities who pass the audit and can maintain compliance.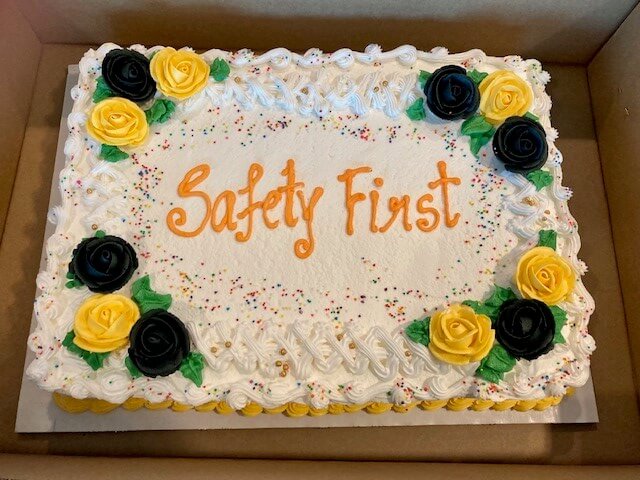 The MASH auditor reviewed internal documentation to ensure all elements of a safety program are being met, and observed staff while they were working to ensure policies and procedures were followed. The audit was conducted from June 14 through June 29 which included interviews with nearly 100 staff.
Areas where the hospital scored very well include Hazard Identification, Assessment and Control with a score of 99 percent, Safety Demonstration with a score of 97 percent, and Safety and Health Training and Orientation with 96 percent.
Opportunities for improvement include Workplace Safety and Health Committee & Workers and Protecting Vulnerable Workers where we scored 84 percent, and Evaluation and Continuous Improvement where we scored 86 percent.
"We are so proud of this certification," said Aminot. "Congratulations to all our staff who continue to look out for each other, and a big thanks to our Occupational Health and Safety staff for their guidance through the audit and for always prioritizing the health and safety of our colleagues."