St. B pharmacy assistant helps mother who gave birth in hospital parking lot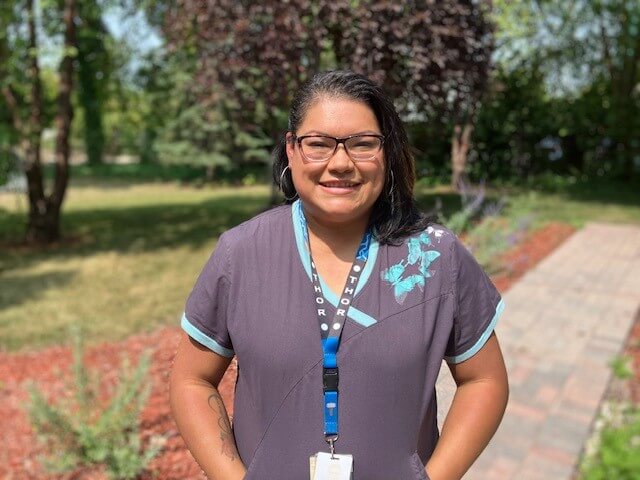 Staff at St. Boniface Hospital are praising one of their own who stepped up to help a couple in need after finishing a long shift over the Canada day long weekend.
Vanessa Reina Regier, a pharmacy assistant, was leaving the hospital on the evening of July 3 when she noticed a man calling for help.
"I was coming out of the south entrance when I was approached by a gentleman in the emergency parking lot," she said.
"He looked distressed and asked me if I was a nurse and I said no, and then he ran back to his SUV."
Vanessa said she knew something was wrong. She said at that point she heard a baby crying.
"Once I heard a baby crying, I ran over to his vehicle and saw a baby in his hands, and his wife in the back of the van crying.
"It was obvious she had just given birth because the umbilical cord was still attached to her and the baby," she said.
Vanessa said her maternal instincts took over, because she immediately knew she had to make sure mom and baby were safe.
"He handed me the baby who was covered in blood, and then I asked him if he had a blanket or a towel to wrap the baby in, and he said no, they were both obviously in shock," she said.
"I noticed he had a t-shirt so I asked him to take off his shirt so I could clean the baby and wrap the baby in it."
Vanessa said the man then ran to the hospital for help while she stayed in the van.
"I wanted to comfort the mom, and she just kept apologizing to me while I held her baby."
Vanessa said the woman thanked her for staying behind, and then asked if the baby was a boy or a girl.
"I couldn't believe it," Vanessa said.
"During this whole ordeal I was shocked she didn't know what they had, so I looked down at the baby and I said 'oh you had a girl', and then she smiled and yelled out to her husband that they had a girl."
Vanessa said she felt so blessed to be part of such a special moment.
"That was pretty neat, that I was the first person to tell her the gender of her new baby."
Vanessa said once the doctors and nurses arrived in the parking lot, they immediately took over and wheeled mom and baby into the hospital.
She said she never got to learn the mother's name and wishes she had so she can check in on the family.
"Everything happened so quickly, your adrenaline is going, I'm trying to keep focus and I didn't even think to get her contact information."
Vanessa said the experience took an emotional toll on her adding she broke down once she got to her car.
"I think once I knew the mom and baby were in the hands of the doctors, I knew I could relax and let go and I just started to cry."
Vanessa said she was exhausted.
"I was a mess, I was covered in blood so I took off my scrub top and drove home in my sports bra," she laughed.
Vanessa's colleagues say they aren't surprised by the incident.
"Vanessa has always been a caring and kind individual offering a warm hug to her co-workers when needed," said her co-worker Bev Alexiuk.
"However, on this day, she went above and beyond supporting this little family in this extraordinary circumstance, we are so proud of Vanessa and her ability to jump into action to help!"
Vanessa said she feels proud knowing that she helped a family in need.
"Looking back, I feel lucky that I was in the right place at the right time, and I'm really happy that I was able to be there for this family."